NB Gifts - 8" Square Tile and Mahogany Trivet



Select one of these links for pictures of available New Brunswick historic buildings and sites, schools, churches:

Saint John ~ Fredericton ~ Moncton ~ St Andrews by-the-Sea
New Brunswick Churches ~ New Brunswick Lighthouses ~ New Brunswick Provincial Images

Return to NB gifts page Cut Suncatchers ~ 4" Suncatchers ~ Nordic Tumblers ~ Shots ~ Rocks Glasses ~ Coffee Mugs ~ Tankards


Votives ~ 4" Cameos ~ Coasters ~ 10" Plates ~ Multi Plates ~ Graduation

---
These stunning trivets are made from an imported Dutch 6" matt blue 'stone' tile, set into a ¾" stained and finished mahogany base with 4 rubber feet.
The etched artwork is placed corner-wise and signed. Outside demensions of trivet are 7¾" x 7¾".

Click on the image to open a detail in a new window.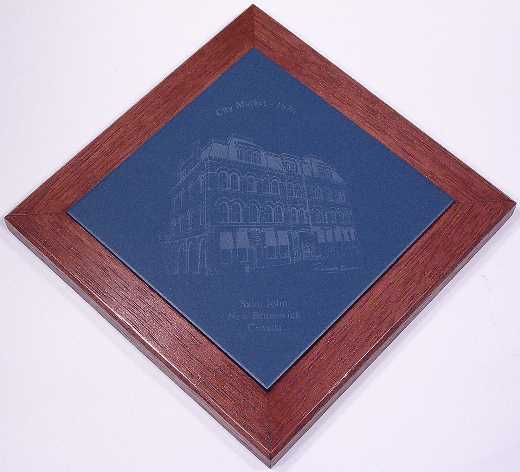 $48.00 each - Canadian funds, tax additional within Canada
Trivet may have any New Brunswick image available etched on the tile.
---
Return to NB gifts page Cut Suncatchers ~ 4" Suncatchers ~ Nordic Tumblers ~ Shots ~ Rocks Glasses ~ Coffee Mugs ~ Tankards

Votives ~ 4" Cameos ~ Coasters ~ 10" Plates ~ Multi Plates ~ Graduation

---
Home ~ New Brunswick Etched Gifts ~ Etched Glassware
Celtic Giftware ~ About Me ~ Glass Etching Introduction ~ For Your Wedding