Detail images of Coffee Table with beveled and etched top
---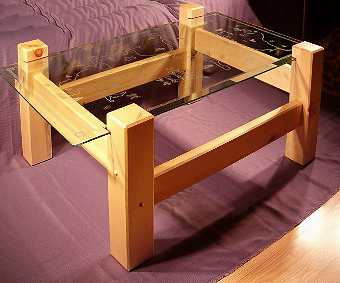 Description of Image: The solid white pine coffee table I've made with legs of 4" x 4" pine, and the stretchers of 2" x 4" pine. The stretchers are tongued into each leg and then pinned in place. Each corner of the legs and the top corners of the stretchers are all chamfered to avoid easily marking them.
The 3/8" glass top is slid through notches in each leg that has felt on the bottom for the glass to rest on. The etching on the table top uses a hand cut resist for the map of the lake and photostencil technology for the names of the coves, islands and peninsulas etched near or on each of them. Etched around and on the map are indigenous trees, plants, animals and birds. There is also a map border etched completely around the top, inside the bevel. All the etching is done on the underside of the top, to make it easily cleaned. The piece is signed and dated in the lower left corner of the top. Finished in clear laquer.
Size shown: 25" x 46", 3/8" glass top with a 1" beveled edge; 18" high
Cost: Is totally dependent upon the complexity of the etch, and what is to be included. The shown coffee table (etched glass, and finished table) would cost $1600 US. The etched insert only, (with design similar to one shown) would cost $950 US.
Click on the image to view additional pictures and details of this table
Photos showing the top and side of the white pine table.
Images will open in a new window.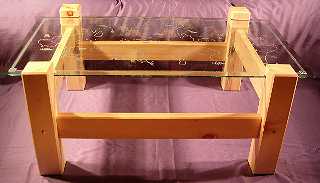 End view of the table, and photo of the etched glass top alone.
Images will open in new windows.
---
E-mail me with your ideas, and sizes. I'll quote you on the cost of supplying the etched substrate, or the entire piece.

Because of the method of sand etching glass, I must use a new resist with each etched piece. It is impossible to remove and reuse a hand cut vinyl resist, or a photoresist because the vinyl is cut in place on the glass, and the photoresist is glued onto the glass - both are ruined during removal.
---
Home ~ Return to Furniture
About Me ~ Glass Etching Introduction ~ Quote/Order Information