Detail images of Coffee Table with The Rubaiyat of Omar Khayyam
---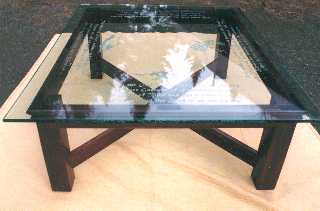 Description of Table: The solid mahogany coffee table is 18" high, with 3" square legs, and cross ties with a fitted central hub. Finished in dark mahogany. The ½" thick clear glass top is 40" square, and has a different verse from the The Rubaiyat of Omar Khayyam sand etched on each side. Above each verse is an image related to the verse. Everything is etched on the bottom of the glass using a hand cut resist (stencil) for the lettering, and photostencil technology for the 4 images.
Size shown: 40" (102 cm) square top of ½" (12 mm) thick glass; 18" (46 cm) high
Cost: Is totally dependent upon the complexity of the etch, and what is to be included. The shown coffee table (etched glass and finished mahogany table) would cost $4200 US.
Click on any picture to download a larger image, which will open in a new window.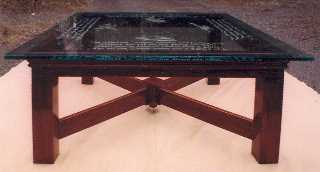 Detailed photos of each side showing the hand-cut etched lettering, and etched images.
Image will open in a new window.
How the complete top looks (the grey milky colour of the glass is reflection of clouds in the picture).
Image will open in a new window.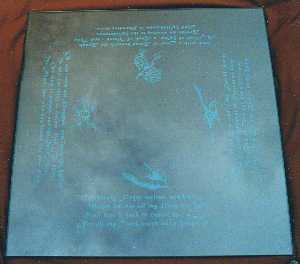 ---
E-mail me with your ideas, and sizes. I'll quote you on the cost of supplying the etched substrate, or the entire piece.

Because of the method of sand etching glass, I must use a new resist with each etched piece. It is impossible to remove and reuse a hand cut vinyl resist, or a photoresist because the vinyl is cut in place on the glass, and the photoresist is glued onto the glass - both are ruined during removal.
---
Home ~ Return to Furniture
About Me ~ Glass Etching Introduction ~ Quote/Order Information