Custom - Etched Glass Tankard
$29.95 plus $8 shipping within North America*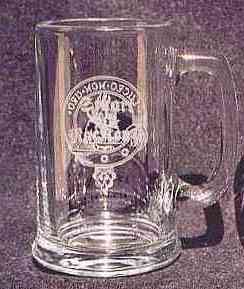 Pay by credit card securely through:
No charge to join or send money.
---
To order your custom etched tankard, complete the following steps, then hit the send button:
It is unlikely that you will experience any problems responding to this form, however, I have heard that certain newer versions of Netscape have a bug that won't let them work with forms.
If you experience any difficulties, (or if you are not using a forms capable browser) you may e-mail your response to this form to: richard@designetch.com
---
Update - this form is NOT working, until I get the bug fixed, please email your 6 answers to me
---

Thanks for your order, I appreciate your business - I know you will appreciate your tankard.
Your order will be sent within three weeks of receiving payment.

I sand-etch each tankard by using a custom made resist (stencil) for the name and another the logo/image. It is impossible to reuse this resist because it is glued on each tankard, and when it is removed from the glass, the resist is totally destroyed. The etch is created using very fine abrasive, which makes the finished etch look very much like an acid etch - it is extremely fine grained, and impossible to remove.
---
Home ~ Wholesale Glassware